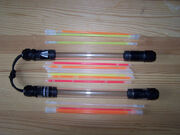 A Cord and bearing NEON Speedcord Nunchaku. Fast and smooth.
NEON SPEEDCORD NUNCHAKU
Edit
Fast bearing and cord Nunchaku, Made in the UK, for demonstrational Nunchaku performances. Smooth and fast these Speedcord Nunchaku have a design that is fairly unique and is rarely manufactured.
They are 12inch and all are fiited with the Bistick cord connection that allows a simple separation of the two sticks for transit and maintenance.
Ad blocker interference detected!
Wikia is a free-to-use site that makes money from advertising. We have a modified experience for viewers using ad blockers

Wikia is not accessible if you've made further modifications. Remove the custom ad blocker rule(s) and the page will load as expected.